Solution for GC GC/MS Microscale Analysis
Three Features
High Quality Silicon Polymer and Cleaning Technique Provides Low Blank Level
Shimadzu LabTotal Vials reduce ghost peaks originating from a septum especially when using mass spectrometer, or when doing low level analysis with sensitivity detectors.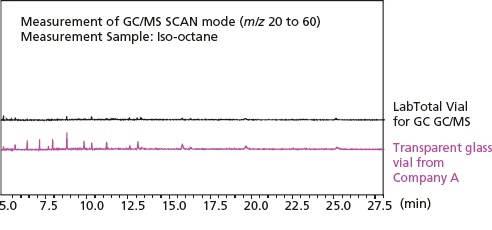 Wide Mouth with Preset Cap - "Ready To Use"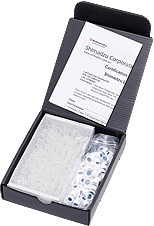 This feature shortens the time needed for sample preparation and reduces human error. LabTotal Vials are designed such that the corners of the bottom of the vial interior can be reached by inserting a 100 μL scale micropipette tip obliquely, which increases the ease of use when inserting and retrieving samples. Marking labels allow users to label the vials for easy identification.
Included Quality Certificate Guarantees High MS Grade Quality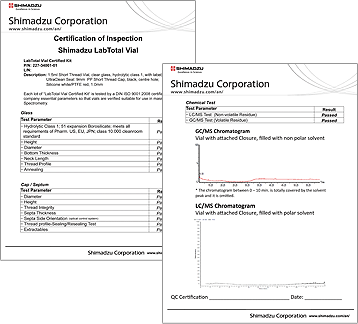 This vial can be used as a vial for high-sensitivity analysis in GC and GC/MS. The Quality Certificate confirms absence of elution components from the vial in random inspections using GC/MS and LC/MS. Therefore, this product can be used with confidence, with no concern for ghost peaks originating from the vial.
Specifications
| | |
| --- | --- |
| Product Name | LabTotal Vial Certified Kit for GC/GCMS (100 pcs) |
| P/N | 227-34002-01 |
| Vial material | Clear Glass with writing patch |
| Vial outer diameter | 12 mm |
| Vial bore diameter | 9.0 mm |
| Cap material / color | Polypropylene / White |
| Septum material | PTFE / Silicon |
For Research Use Only. Not for use in diagnostic procedures.

This page may contain references to products that are not available in your country.
Please contact us to check the availability of these products in your country.