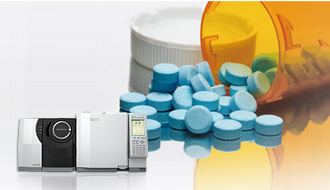 This database software supports the creation of MRM methods for forensic toxicological substances.
Features
1. Supports Creation of MRM Methods for Forensic Toxicological Analysis Using GC-MS/MS
The database is registered with a total of 201 forensic toxicological substances often involved in poisonings, such as drugs of abuse, psychotropic drugs, pharmaceuticals and pesticides, and includes 1200 MRM transitions. For all registered compounds, it contains information on MRM transitions, collision energies, and confirmation ion ratios, so there is no need to configure complicated analysis conditions. Furthermore, retention indices are registered for all of the components, enabling easy updating of retention times via the AART (Automatic Adjustment of Retention Time) function.
2. Provides Improved Selectivity and Sensitivity via MRM
With GC-MS/MS MRM mode, mass separation is performed in 2 stages, so background interferences from biological samples are easily separated from the target compounds, and the forensic toxicological substances are detected with improved sensitivity. Thus, it is easy to determine whether biological samples contain forensic toxicological substances, and data analysis times are substantially reduced.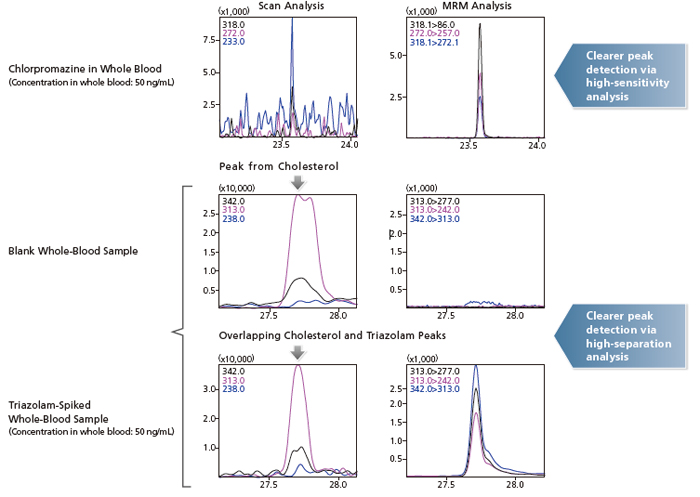 3. Creates Optimal MRM Methods Automatically
The Smart MRM program creates MRM methods automatically. In multicomponent simultaneous analysis, it is difficult to configure the dwell, event, and loop time-measurement settings in the MRM program. Smart MRM, however, automatically determines the optimal time-measurement settings, and creates a high-sensitivity method. The MRM method is created based on the retention time information for target compounds, using the AART function. Extensive support for creating MRM methods
4. Combination with the GC/MS Forensic Toxicological Database in Simultaneous Scan/MRM Measurement
Scan data obtained with simultaneous Scan/MRM measurements can be analyzed using the GC/MS Forensic Toxicological Database, which is used to screen for forensic toxicological substances. MRM data can be used for trace quantity analyses of toxicological substances often involved in poisonings, which are registered in the Smart Forensic Database, while the scan data can be used to screen for drugs of abuse using the GC/MS Forensic Toxicological Database, which includes many designer drugs.
Database Contents
Categories of Toxicological Substances Registered in Smart Forensic Database
| | Number of Registered Compounds |
| --- | --- |
| Drugs of abuse | 20 |
| Psychotropic drugs | 120 |
| General drugs | 20 |
| Pesticides | 40 |
| Rodenticides | 1 |
The AART method file is registered with analysis conditions suited to the registered compounds. This allows you to start measurements without having to set analysis conditions and data analysis parameters. The database file is registered with information on up to six transitions per component. In addition, retention indices are registered for all registered compounds, making it possible to create MRM methods from retention times corrected using the AART function.*
* The retention indices registered in the database are calculated using the analysis conditions registered in the AART method file. If you are using the registered retention indices, use the column indicated below, under identical conditions.
Items Provided by the User
Analysis columns
: Rxi®-5Sil MS (30 m, 0.25 mm i.d., df=0.25 μm) Or DB-5ms (30 m, 0.25 mm i.d., df=0.25 μm)
n-Alkane
: C8-C40 Alkane Calibration Standard (SIGMA-ALDRICH, Cat#: 40147-U)
Applicable Systems
: GCMS-TQ8040, GCMS-TQ8030
Operating Environment
OS: Microsoft® Windows® 7 Professional
Excel: Microsoft® Excel® 2010 (32-bit version), Excel® 2013 (32-bit version)
Workstation software: GCMSsolution ver. 4.20 or later
Remarks and Precautions
Shimadzu makes no warranty regarding the accuracy of information included in the database or the usefulness of information obtained from using the database.
Be sure to perform tests using standards to confirm qualitative and quantitative information obtained with the given system.
To reliably identify registered substances using this database, measure samples using the instrument parameters specified in the method template files included in the product.
This database is for research purposes. It cannot be used for clinical diagnostic applications.
For Research Use Only. Not for use in diagnostic procedures.
This page may contain references to products that are not available in your country.
Please contact us to check the availability of these products in your country.