Quick-DB for residual pesticide analysis Ver. 2
Simultaneous Screening of 491 Pesticides without Standard Samples
The increase in restricted pesticides caused by the introduction of the Positive List system for agricultural chemical residues in foods in Japan has resulted in an increasing number of samples to be analyzed. Increased purchasing costs and the control operations associated with these standard samples have become issues for the industry. This product is a GC-MS(/MS) analysis database pre-registered with calibration curves created using pesticide surrogates as internal standard substances. This allows for quick residual pesticide screening without the use of pesticide standard samples. In Ver. 2, the number of pesticides that can be analyzed in MRM mode is 491. Database customization has also been added.
Quantitation Analysis without Using Standard Samples
Quantitative Analysis Using Pesticide Surrogates as Internal Standard Substance
The database is registered with analytical conditions for 491 pesticides (retention indices, transitions, calibration curves, etc.). Retention indices can be used with the Automatic Adjustment of Retention Times (AART) function and automatic method creation function (Smart MRM) to create quantitative analytical methods in SIM mode and MRM mode without using standard samples. The method files created are pre-registered with calibration curves created using pesticide surrogates as internal standard substances. This allows for the quantitative values to be calculated without using calibration curves obtained from standard samples.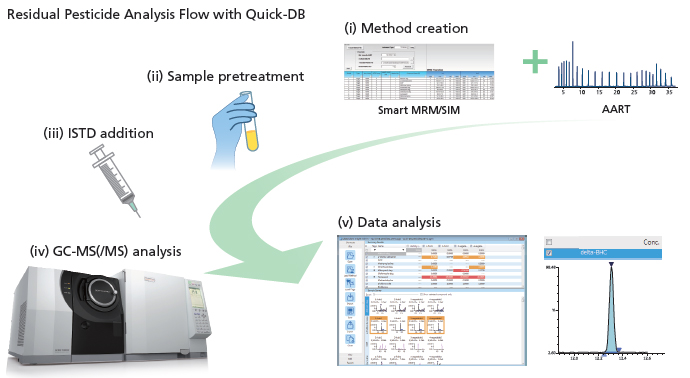 Quantitation Analysis Using Pesticide Surrogates as Internal Standard Substances
To increase quantitative analysis precision, quantitative values must be adjusted to compensate for pesticide losses during analysis and due to variations in GC-MS(/MS) sensitivity. The pesticide surrogates used are 19 pesticides labeled with stable isotope elements that behave almost identically to the target pesticides. The calibration curves contained in this product are created by grouping target pesticides based on similar behavioral and physical properties and allocating pesticide surrogates with similar physical properties to each group as internal standard substances. This allows for quantitative values to be calculated with high precision without using calibration curves created from standard samples.
Allocation of Pesticide Surrogates Based on Physical Properties of Target Pesticides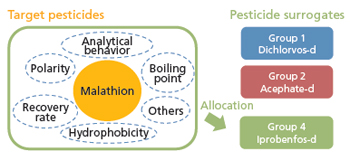 Sensitivity Variation Adjustments Using Pesticide Surrogates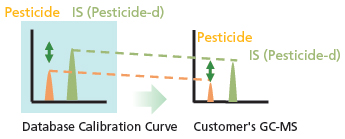 Pesticide surrogates can also be used to adjust differences in target pesticide responses observed in calibration curves and a customer's instrument due to variations in GC-MS(/MS) sensitivity.
Reliable Target Pesticide Detection of High Matrix Samples
When analyzing high matrix samples such as those that have undergone simple pretreatment by a QuEChERS method, detection and quantitation may not be achieved in either SIM mode or MRM mode due to the influence of contaminants on the target pesticides. Using two columns of different polarity allows for peak separation between the target pesticide and contaminants. This product is compatible with the Twin Line MS system, and can be used to reliably detect pesticides in high matrix samples.


Analysis can be performed smoothly on different columns without interrupting the MS vacuum by simultaneously attaching the mass spectrometer to the outlets of two different columns installed in two separate vaporizing chambers.
Accelerating All Operations, from Precision Control to Data Analysis
Rapid Precision Control with QA/QC Functions Designed Especially for Pesticide Analysis
Periodic precision control of instruments is needed to maintain the reliability of data during daily analyses. This product comes with QA/QC methods created especially for pesticide analysis. These methods allow for quick confirmation of instrument status by simply analyzing pesticide surrogates before analyzing the target sample.

Possibility of Customizing Database
This product is the world's only customizable database for residual pesticide screening. Additional analytical conditions (including calibration curve information) can be added to the database. Also, the target pesticides being measured can be changed for each sample, allowing the customer to analyze particular target pesticides.
Product Specifications
Product Contents
Database file, method files, LabSolutions Insight damlp file, report format files
Number of Pesticides Registered to the Database
| | |
| --- | --- |
| For GC-MS (Scan/SIM modes) | 474 compounds (317 for Scan mode, 157 for SIM mode) |
| For GC-MS/MS (MRM mode) | 491 compounds |
Applicable Instruments
| | |
| --- | --- |
| GC/MS | GCMS-TQ8040, GCMS-QP2020, GCMS-QP2010 Ultra |
| GC/MS Workstation | GCMSsolution (Ver. 4.41 or later) + LabSolutions Insight (Ver. 2.00 or later) |
Consumables
| | |
| --- | --- |
| Column 1 | SH-Rxi-5Sil MS 30 m x 0.25 mmI.D., df=0.25 mm (P/N S221-75954-30) |
| Column 2 | SH-Rtx-200MS 30 m x 0.25 mmI.D., df=0.25 mm (P/N S221-75954-30) |
| Insert liner | Custom SkyTM Liner Splitless Single Taper Gooseneck w/Wool P/N 567366 (Restek)* |
| Internal standard | PL Pesticide Surrogate standards Mix I, II (P/N 99056136, 99056191) (Hayashi Pure Chemical Ind., Ltd.) |
*Sky is a trademark of Restek Corporation.
This product was created based on results obtained by the Aichi Science and Technology Foundation "Knowledge Hub" Priority Research Project and Food Safety & Security Technology Development Project.
The accuracy of the information contained in the database and the usefulness of information obtained as a result of the use of this information is not guaranteed.
Be sure to test the qualitative and quantitative information obtained with this system using a standard sample for confirmation.
To reliably identify substances registered with this database, perform measurement using the system requirements of the method file included with the product.
For Research Use Only. Not for use in diagnostic procedures.
This page may contain references to products that are not available in your country.
Please contact us to check the availability of these products in your country.