Making the Difficult Simple
The Py-Screener system is designed to screen for phthalate esters in polymers. The use of phthalate esters in toys and food packaging is currently restricted.
Moving forward, they are expected to be regulated as restricted substances under the Directive on the restriction of the use of certain hazardous substances in electrical and electronic equipment (RoHS (II) Directive) in Europe.
The pyrolyzer GC/MS (Py-GC/MS) is used to selectively detect and quantify phthalate esters thermally extracted from samples. This screening system consists of a sampling toolkit, special standards, and special software and can be easily operated even by novices.
Future
Easy to Operate Even for Novices
Organics Solvents Are Not Required for Sample Preparation.
Analytical standards and test samples can be prepared without using organic solvents. To prepare a sample, just use the cutter to remove a portion from the test material, place it in the sample cup, and weigh it. Sample preparation videos provide support so that even novices can easily prepare samples.


Sample Preparation Videos
Sample Preparation Video
The sample preparation videos can be viewed on the smart devices by accessing here. The user name and password attached to the product is necessary to access this link. (Sample Preparation Videos)

Easy to Operate Using Special Software
Using customized software, operations are easy, even for novices. To automatically start continuous analyses, just place the prepared standards and test samples in the autosampler, and enter the number of samples, the sample names, and their weights. Continuous measurements can be performed overnight, so approximately 30 samples can be measured per day.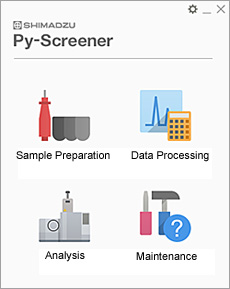 Py-Screener Software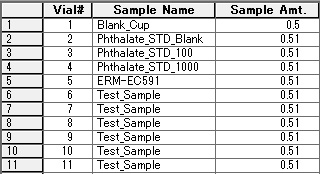 Display of measurement schedule
Tabular Display of Concentrations and Criteria Clarifies the Results.
The concentrations of target components detected in continuous measurements are displayed in a table and color-coded using criteria based on concentration ranges. The results for continuously measured test samples can be checked at a glance. Also, the system is equipped with accuracy control functions in order to ensure the reliability of blank concentrations, instrument sensitivity, and other data, so even novices can feel confident that they are reporting reliable measurement results.
All Required Items Are Available.
The analytical standards for this system were developed in cooperation with SGS Japan, the market leader for RoHS tests. Standards for sensitivity confirmation, quantitation, and blank tests can be prepared simply by punching out a portion of a standard material using the micro puncher. A toolkit used for preparing samples has been created with Frontier Laboratories Ltd.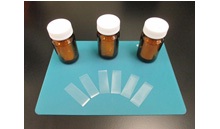 Standards Containing Phthalate Esters for Py-GC/MS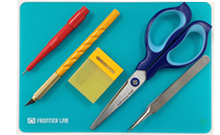 Sampling Toolkit
Ample Maintenance Support
Using the Maintenance Navigator, the procedures appropriate for pyrolyzer and GC/MS maintenance can be performed easily and confidently. Procedures for locating and resolving leaks are included, and kits with common replacement parts simplify maintenance and troubleshooting procedures.


Maintenance Navigator Windows
Software
This product consists of a special software, method files for Py and GC/MS, schedule files (batch files), report formats, and flag file for LabSolutions Insight.
Compound Name
Type
DIBP
Phthalate esters
DBP
BBP
DEHP
DNOP
DINP
DIDP
Hexabromocyclododecane
Brominated flame retardants
Tetra-BDE (BDE-47)
Penta-BDE (BDE-100)
Penta-BDE (BDE-99)
Hexa-BDE (BDE-154)
Hexa-BDE (BDE-153)
Hepta-BDE (BDE-183)
Octa-BDE (BDE-197+204)
Nona-BDE
Deca-BDE (BDE-209)
Deca-BB (BB-209)
Applicable Models
| | |
| --- | --- |
| GC/MS | GCMS-QP2010 Ultra |
| Pyrolyzer | EGA-PY3030D + AS-1020E |
| GCMS workstation | GCMSsolution Ver. 4.3 or later + LabSolutions Insight |
| Py workstation | EGA_PY3030D Ver. 1.54 or later |
Note that there are no guarantees regarding the accuracy of the information contained in the method files, or the usefulness of the information obtained from the results of their use.
In order to accurately identify the registered substances, perform the measurements using the system conditions in the method files contained in the product.
For Research Use Only. Not for use in diagnostic procedures.

This page may contain references to products that are not available in your country.
Please contact us to check the availability of these products in your country.