LabSolutions Direct Receives 2014 Good Design Award
2014 LabSolutions Direct Wins "Good Design Award"
LabSolutions Direct dramatically improves user convenience by enabling remote operation of processes that previously required being in front of the analytical instrument. The award was given in recognition of its potential to revolutionize the style of how analytical and laboratory work is performed.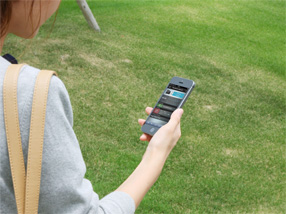 LabSolutions Direct is a remote access tool that allows the monitoring and control of a liquid chromatograph from a smartphone or tablet computer. The solvent delivery unit and oven can be switched ON or OFF, and the liquid chromatograph can be controlled in terms of starting or ending analysis. In addition, the tool makes it possible to monitor the progress of an analysis, thereby allowing users to perform analysis while in a different environment to the laboratory itself.
For Research Use Only. Not for use in diagnostic procedures.
This page may contain references to products that are not available in your country.
Please contact us to check the availability of these products in your country.