Bibliothèque de composés naturels et synthétiques d'arômes et de parfums (FFNSC 4)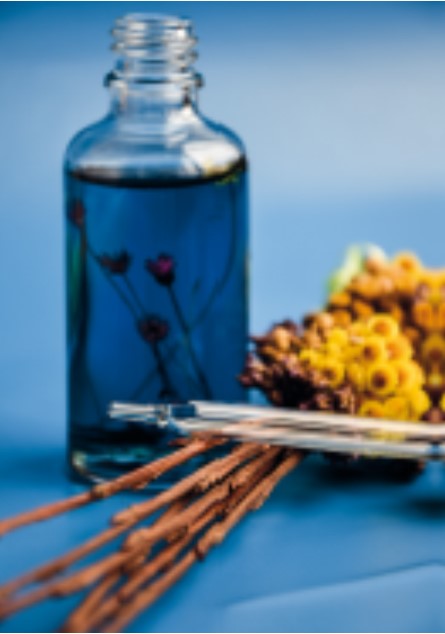 La technologie GC-MS est couramment utilisée pour les analyses d'arômes et de parfums, et la recherche d'une bibliothèque de spectres GC-MS est pratique pour identifier les composants inconnus. Cependant, les similitudes dans les spectres de masse de certains composés parfumés rendent l'identification difficile. La réalisation d'analyses à l'aide de Shimadzu GC-MS permet d'obtenir des spectres de masse avec des similitudes proches de celles enregistrées dans la bibliothèque. La bibliothèque FFNSC 4 contient des indices de rétention utilisant trois types de colonnes ainsi que des spectres de masse. La recherche dans la bibliothèque GCMSsolution de Shimadzu, utilisant l'indice de rétention, fournit des résultats d'identification très précis et la rend idéale pour l'analyse des arômes et des parfums.
Spec
Registered Compounds
4,030 flavor and fragrances compounds
Registered Retention Indexes
Non-polar column (SLB®-5ms)
Highly-polar column (SUPELCOWAX® 10)
Non-polar column (Equity®-1)
Registered Information

Mass spectrum, Retention index for each column, CAS number, compound name, molecular weight, compositional formula

Applicable models
GCMS-QP series and GCMS TQ series (single-quad mode only; does not include MS/MS spectra)
Filtrage avec indice de rétention
Étant donné que les composants d'arôme et de parfum contiennent parfois des composés ayant des structures chimiques similaires, plusieurs composés avec des spectres de masse similaires sont répertoriés comme candidats lors d'une recherche dans la bibliothèque en utilisant uniquement le spectre de masse. Le filtrage avec l'index de rétention trie les candidats par index de rétention, fournissant ainsi des résultats d'identification très précis.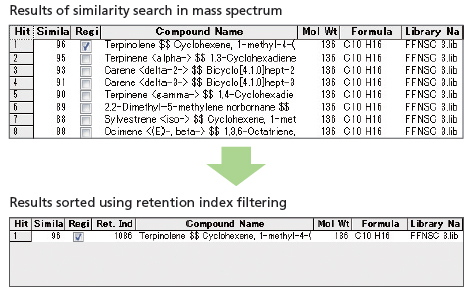 Compatible multi-colonnes
Tous les indices de rétention de colonne peuvent être confirmés en même temps, ce qui facilite une enquête approfondie sur les résultats d'identification.
​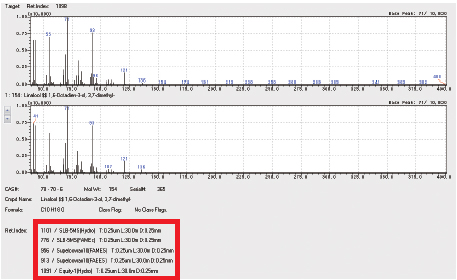 Diverses configurations système
Grâce à un choix de modules, de détecteurs, de composants et d'accessoires, des solutions GC-MS spécifiques à l'application sont adaptées à l'objectif d'une certaine tâche analytique. Les utilisateurs peuvent être sûrs de contribuer aux consommateurs et aux patients ainsi qu'à la protection de l'environnement.
Références / Publications scientifiques
---
For Research Use Only. Not for use in diagnostic procedures.
This page may contain references to products that are not available in your country.
Please contact us to check the availability of these products in your country.